2x Magic Knife 8"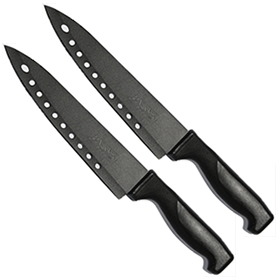 Magic Knife 8"
The original Magic Knife.

One knife for all your culinary needs.

Great for meat, fish and all your vegetables, from the hardest butternut squash to the softest tomatoes.

Bundle contains:

2 x Magic Knife 8"

Customer Reviews
Customer Reviews
Magic Knife 8"
NEIL PRIOR
23 April 2019
I purchased the knife at the Camping and Caravanning show at the NEC last Summer and trust me this is by far the best knife we have ever owned and is the only knife we have and need in our utensil drawer.It does exactly what it says on the tin...it's "MAGIC" and as a regular bread machine user I find this really good to cut those slices even thinner than before subsequently getting more out of a loaf. I occasionally need to give the blade a couple of skims across the knife sharpener but that's it..once every 3 months ! I would recommend this knife to all ,infact I have several times and they have come back to me to say Thanks and thats what I say to you too "Thank You" Neil & Martha
Magic Knife 8"
G Foard
14 April 2019
Actually bought this over 10 years ago. Coating has become scratched but, with correct sharpening, still has had a great cut. I decided to buy a new one at this years Ideal Home, but after chatting with the demonstrators decided "why replace it?" And bought the paring knife instead! I have three chefs knives, but this is still my go to. Buy one, look after it and it will do the job.
Magic Knife 8"
Ruth Rogers
14 April 2019
I went to a cake show thinking I would buy much. I came across a demonstration of this magic knife and immediately bought one. It has changed my life. I now chop everything up so much quicker and am buying lots of different vegetables as it's easy to chop them up now! I definitely recommend these knives.
Magic Knife 8"
Unknown
8 April 2019
The handle is comfortable however while the blade works well, it would be better if the end of the blade near the handle was rounded off and not left sharp as it is easy to catch yourself on it and cause injury.
Magic Knife 8"
Maureen Davies
27 March 2019
Brilliant, slices through anything cleanly. Easy to clean. Handle grip is comfortable and feels safe secure.wished I'd had them years ago.
Read more reviews for this product
Each Magic Knife comes with 1 year guarantee.
If anything happens to your knife you can use our returns form to arrange a replacement or visit us at a show to exchange your knife.
We highly recommend washing your knife by hand.