2x Magic Knife 8"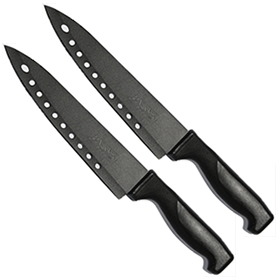 Magic Knife 8"
The original Magic Knife.

One knife for all your culinary needs.

Great for meat, fish and all your vegetables, from the hardest butternut squash to the softest tomatoes.

Bundle contains:

2 x Magic Knife 8"

Customer Reviews
Customer Reviews
Magic Knife 8"
Jacquie
4 August 2019
I had pretty much given up on cutting and preparing many vegetables due to increasing pain and decreased mobility in my hands. Not any more because these knives are beyond amazing! Lightweight and super sharp, only requiring a soft grip and minimum pressure. Highly recommended.
Magic Knife 8"
Ceridwen
30 July 2019
I have 3 sizes of the knives and the sharpener. Love them all, have been a really good purchase .
Magic Knife 8"
Martin Tock
25 June 2019
Fantastic knife. It glides through each cut of any fruit,veg , meat and bread. Love the knife and hope to never need to replace it. Looking to have more in the future
Magic Knife 8"
Unknown
14 June 2019
Great product, makes cutting food of all sorts simple. Slices through food without needing to use force and great on break as well.
Magic Knife 8"
Paula Cannell
12 June 2019
Of all its many uses cutting through fresh, crusty sourdough crust without spraying crumbs or flattening the loaf is my delight.
Read more reviews for this product
Each Magic Knife comes with 1 year guarantee.
If anything happens to your knife you can use our returns form to arrange a replacement or visit us at a show to exchange your knife.
We highly recommend washing your knife by hand.