Magic Knife 3" and 8" with Sharpener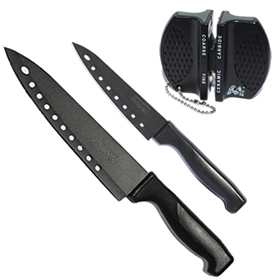 Magic Knife 3"
Our small utility knife is perfect for detail work.

Magic Knife 8"
The original Magic Knife.

One knife for all your culinary needs.

Great for meat, fish and all your vegetables, from the hardest butternut squash to the softest tomatoes.

Sharpener
A quick and easy way to keep all your knives in perfect condition.

It has a two stage sharpening design of carbide and ceramic, with non-skid feet to provide safety when sharpening.

Bundle contains:

1 x Magic Knife 3"
1 x Magic Knife 8"
1 x Sharpener

Customer Reviews
Customer Reviews
Magic Knife 8"
Jamie
13 February 2019
It's mine. And always ready for special kitchen duties.
Magic Knife 8"
Tamz
13 February 2019
Excellent knife, very sharp and needs sharpening rarely. It's the only knife I use now. Great product.
Magic Knife 8"
Unknown
12 February 2019
I have been very pleased with my magic knife. Being an OAP I have always found it difficult to slice through large swedes but with my magic knife it is simple and it is just as good with delicate tomates. Many thanks.
Magic Knife 3"
Mike
11 February 2019
Excellent product. Very sharp and easy to keep sharp with the Magic Knife sharpener. I have been using these knives now for several years and they are well made and do the job very well. I have recommended these knives to friends and family.
Magic Knife 8"
Simon Dean
8 February 2019
is excellent, - silly little things like being able slice a cherry tomato is amazing. Never lets us down, highly recommended.
Read more reviews for this product
Each Magic Knife comes with 1 year guarantee.
If anything happens to your knife you can use our returns form to arrange a replacement or visit us at a show to exchange your knife.
We highly recommend washing your knife by hand.