Magic Knife 3" and 8" with Sharpener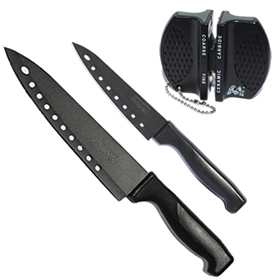 Magic Knife 3"
Our small utility knife is perfect for detail work.

Magic Knife 8"
The original Magic Knife.

One knife for all your culinary needs.

Great for meat, fish and all your vegetables, from the hardest butternut squash to the softest tomatoes.

Sharpener
A quick and easy way to keep all your knives in perfect condition.

It has a two stage sharpening design of carbide and ceramic, with non-skid feet to provide safety when sharpening.

Bundle contains:

1 x Magic Knife 3"
1 x Magic Knife 8"
1 x Sharpener

Customer Reviews
Customer Reviews
Magic Knife 8"
J Wilk
2 September 2021
I have a set of magic knives and have found them to be excellent but not the black coating is coming off on food. Rather concerned about this.
Magic Knife 8"
Anita Roberts
18 August 2021
Always my go to knife - can't fault them
Magic Knife 8"
Icky
13 August 2021
Had Magic knives for over 12 years the best i have for sure don't use anything else easily maintained highly recommend
Magic Knife 8"
Sandra
9 August 2021
I love this knife so much that I now don't use any of my other knifes
Magic Knife 8"
MikeyW
1 August 2021
Very nice knife. Cuts smoothly and easily through soft or hard items, from tomatoes to butternut squash. I've had it for 6 months now and it is now just about feeling that it could do with a sharpen just to bring it back to it's prime. Very impressed with it and hope to add more to my collection soon enough.
Read more reviews for this product
Write a customer review *
* Please note reviews are not displayed immediately to others and will take 2 - 3 days to appear on the website.
Each Magic Knife comes with 1 year guarantee.
If anything happens to your knife you can use our returns form to arrange a replacement or visit us at a show to exchange your knife.
We highly recommend washing your knife by hand.