Magic Knife 3"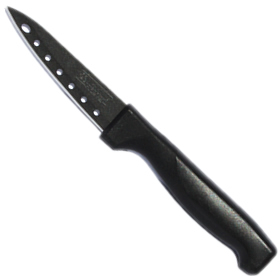 Our small knife is perfect for controlled, detailed work.

Great for slicing, dicing and carving smaller fruits and vegetables.

Ideal for deveining prawns and removing seeds from chillis.

Customer Reviews
Customer Reviews
Magic Knife 3"
ELAINE LESTER
7 November 2023
I do like my magic knife, but it is not staying sharp at all. I have tried sharpening it and it makes a small improvement but not much. Overall I am disappointed as it has trouble cutting through even a tomato skin even if a do the sawing action as described by your sales man.
Magic Knife 3"
EH
2 November 2023
A great little knife - cuts very finely and neatly. Still as sharp as new after 6 months of almost daily use.
Magic Knife 3"
Unknown
31 October 2023
This light knife replaced my old favourite vegetable knife and that is hardly ever used now. This magic knife is light but strong and is sharp and able to tackle all the uses I put it to. I wish I had the budget for more!
Magic Knife 3"
Patricia
23 October 2023
I love this little knife I don't know how I managed before I purchased this
Magic Knife 3"
frank george osborn
9 October 2023
Having purchased a "Chifes Knife" some time ago which is still in shape now as it was then. I am pleased to find the 3" is showing signs that it will be the same as the Chiefs in the coming years.
Read more reviews for this product
Write a customer review *
* Please note reviews are not displayed immediately to others and will take 2 - 3 days to appear on the website.
Each Magic Knife comes with 1 year guarantee.
If anything happens to your knife you can use our returns form to arrange a replacement or visit us at a show to exchange your knife.
We highly recommend washing your knife by hand.