Magic Knife 3"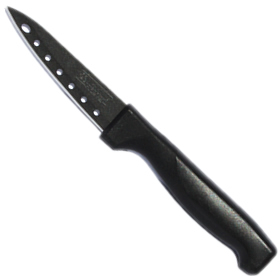 Our small knife is perfect for controlled, detailed work.

Great for slicing, dicing and carving smaller fruits and vegetables.

Ideal for deveining prawns and removing seeds from chillis.

Customer Reviews
Customer Reviews
Magic Knife 3"
Tom Williams
26 June 2019
Excellent knife. Probably the most-used of our knives.
Magic Knife 3"
Sharon hall
4 June 2019
To be honest I'm not that impressed with the knife have gone back to using my old one . May be I was just using it wrong
Magic Knife 3"
Jo k
11 May 2019
This is the most used knife in my kitchen draw. I love it. It cuts so effortlessly.
Magic Knife 3"
Jackie Jenkins
10 May 2019
Love my Magic Knives! Bought first one a couple of years ago at a food festival. Husband broke it a few months later chopping very hard frozen parmesan! They sent a free replacement, which was lost in the post as we had moved house. So, they sent me a second replacement knife. Fantastic customer service. I have three knives and use them every single day. Apart from occasional sharpening they are still just as good as new.
Magic Knife 3"
Laura
10 March 2019
I have to say I am impressed! Have been using this knife every day since I bought it six months ago, and is as sharp as it came out of the box. Great quality, non stick and just the right size for me from peeling potatoes, dicing carrots or deboning chicken, I use it for pretty much everything! Buy it, you'll be glad you did
Read more reviews for this product
Each Magic Knife comes with 1 year guarantee.
If anything happens to your knife you can use our returns form to arrange a replacement or visit us at a show to exchange your knife.
We highly recommend washing your knife by hand.