Magic Knife 3"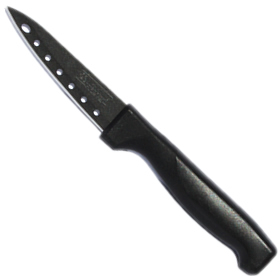 Our small knife is perfect for controlled, detailed work.

Great for slicing, dicing and carving smaller fruits and vegetables.

Ideal for deveining prawns and removing seeds from chillis.

Customer Reviews
Customer Reviews
Magic Knife 3"
Mike
11 February 2019
Excellent product. Very sharp and easy to keep sharp with the Magic Knife sharpener. I have been using these knives now for several years and they are well made and do the job very well. I have recommended these knives to friends and family.
Magic Knife 3"
Very Happy Customer
5 February 2019
All our magic knifes work very well. I would recommend without a second thought.
Magic Knife 3"
Jane Hearn
20 January 2019
Best money I spent in ages. Have three knives and use them daily. Well worth getting the sharpener. Would recommend 100%
Magic Knife 3"
Unknown
1 November 2018
This knife is really easy to use, comfortable handle, cuts through dense vegetables with minimal effort. It is easy to sharpen . It is now my knife of preference
Magic Knife 3"
Karen Silverson
21 June 2018
Absolutely brilliant. Love it.
Read more reviews for this product
Each Magic Knife comes with 1 year guarantee.
If anything happens to your knife you can use our returns form to arrange a replacement or visit us at a show to exchange your knife.
We highly recommend washing your knife by hand.