Magic Knife 3"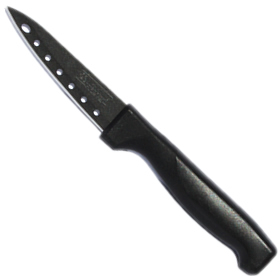 Our small knife is perfect for controlled, detailed work.

Great for slicing, dicing and carving smaller fruits and vegetables.

Ideal for deveining prawns and removing seeds from chillis.

Customer Reviews
Customer Reviews
Magic Knife 3"
jacqueline
28 December 2022
great knife works wonders will have to get the full set someday
Magic Knife 3"
Tarlochan
12 October 2022
Love these knives I have lot of pain in my hands due rheumatoid arthritis and fybromalgia, the knives are design to make gripping well. They don't hurt my hands the potatoes peeler is so light and hands find it so comfortable. I would highly recommend them. I have been buying my collection of these knives. I don't use sny other. I'm very protective of my knives!!
Magic Knife 3"
Nan
3 September 2022
Brilliant knives However my own personal preference would be not to have the Teflon coating as this does eventually wear off and makes the knife look tatty but it still performs just as well. Very pleased with the quick response from Phil and the replacement offer when mine broke (but has been used constantly for over 3 years) hopefully one day I will be able to purchase a box set
Magic Knife 3"
J.Marley
14 March 2022
Really pleased,it is used everyday.
Magic Knife 3"
Kirsty smith
29 January 2022
I love the knife's they are fantastic and keep their sharpness. I also have the veg peeler which is really good working both ways and I have a pair of scissors they are extremely sharp scissors cooking through most things I would definitely purchase these again. I have only one complaint that the scissors have become loose.
Read more reviews for this product
Write a customer review *
* Please note reviews are not displayed immediately to others and will take 2 - 3 days to appear on the website.
Each Magic Knife comes with 1 year guarantee.
If anything happens to your knife you can use our returns form to arrange a replacement or visit us at a show to exchange your knife.
We highly recommend washing your knife by hand.