Magic Knife 5" and 8"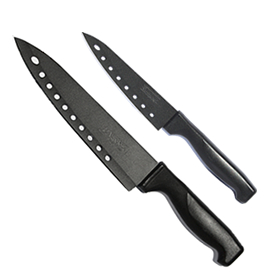 Magic Knife 8"
The original Magic Knife.

One knife for all your culinary needs.

Great for meat, fish and all your vegetables, from the hardest butternut squash to the softest tomatoes.

Magic Knife 5"
Our small but handy Magic Knife.

Suitable for the person who does not like a large knife, but still capable of doing all those jobs in the kitchen, from the hardest swede to softest tomatoes.

Bundle contains:

1 x Magic Knife 8"
1 x Magic Knife 5"

Customer Reviews
Customer Reviews
Magic Knife 8"
Sandra Hammond
31 January 2023
I love my Magic Knife. I certainly don't know how I managed to get by before I purchased it. The Magic knife is still as sharp as when I first used it. Easy to clean. Best knife I have.
Magic Knife 5"
sandra hamer
29 January 2023
Never previously heard of this knife but after watching a demonstration i bought one.It has not failed to impress.i do keep it sharpened and after nearly a year its still amazingly sharp.
Magic Knife 5"
Felicity
26 January 2023
I bought this knife from a stall at a fair and was a bit cynical. But it's blown me away, it's so sharp!
Magic Knife 8"
Sam Jeffery
26 January 2023
I've been through a lot of knives and this is the best I've found at a reasonable price. You can use this knife to cut fresh bread, it's that good!
Magic Knife 5"
Claire L
25 January 2023
Just the best knives ever. Will not buy any others. What really sells it for me is that they don't get stuck in what ypu are cutting up, due to the holes. They are easy to sharpen too.
Read more reviews for this product
Write a customer review *
* Please note reviews are not displayed immediately to others and will take 2 - 3 days to appear on the website.
Each Magic Knife comes with 1 year guarantee.
If anything happens to your knife you can use our returns form to arrange a replacement or visit us at a show to exchange your knife.
We highly recommend washing your knife by hand.