Magic Knife 5" and 8"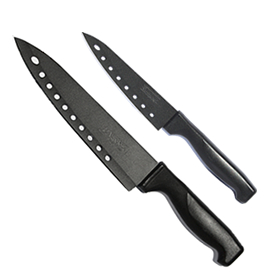 Magic Knife 5"
Our small but handy Magic Knife.

Suitable for the person who does not like a large knife, but still capable of doing all those jobs in the kitchen, from the hardest swede to softest tomatoes.

Magic Knife 8"
The original Magic Knife.

One knife for all your culinary needs.

Great for meat, fish and all your vegetables, from the hardest butternut squash to the softest tomatoes.

Bundle contains:

1 x Magic Knife 5"
1 x Magic Knife 8"

Customer Reviews
Customer Reviews
Magic Knife 8"
Bill Rudd
11 December 2019
disappointed that the knife has lost some of its coating - and its once superb cutting edge after only six months. Have had to re-sharpen the blade to restore its cutting edge - however it still cuts extremely well
Magic Knife 8"
Reg East
8 December 2019
Have now had mine for 3 years and is been great but bent tip due to misuse and am just going to order new one
Magic Knife 8"
Disappointed
2 December 2019
Purchased the 5" and 8" knives and unfortunately the handle has come away from the 8" knife whilst my husband was carving our sunday roast. The 5" knife seems to be ok. We don't have a dishwasher so everything is hand washed. Very disappointed
Magic Knife 8"
Brian & Pam
1 December 2019
A well balanced knife with a comfortable handle that provides a secure grip. As advertised these are very sharp blades (this is good as a sharp blade is much safer than a dull one), just treat them with due respect as with any cutting tool. Also,it's very easy to maintain the keen cutting edge with the provided sharpening tool, many other kitchen knives seem impossible to sharpen and/or maintain a good edge. The holes in the blade do work in helping to reduce friction and releasing the food being cut. overall an excellent buy.
Magic Knife 5"
Christine Cameron
18 November 2019
Great knife sits well in hand so easy to use. Tackles hard skin fruit & veg very well
Read more reviews for this product
Each Magic Knife comes with 1 year guarantee.
If anything happens to your knife you can use our returns form to arrange a replacement or visit us at a show to exchange your knife.
We highly recommend washing your knife by hand.