Magic Knife 5" and 8"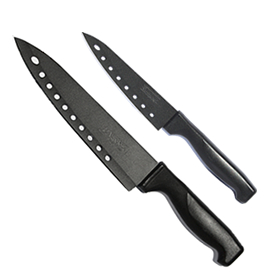 Magic Knife 5"
Our small but handy Magic Knife.

Suitable for the person who does not like a large knife, but still capable of doing all those jobs in the kitchen, from the hardest swede to softest tomatoes.

Magic Knife 8"
The original Magic Knife.

One knife for all your culinary needs.

Great for meat, fish and all your vegetables, from the hardest butternut squash to the softest tomatoes.

Bundle contains:

1 x Magic Knife 5"
1 x Magic Knife 8"

Customer Reviews
Customer Reviews
Magic Knife 8"
lynn
6 April 2021
i bought one of the big knifes at the royal cornwall show and was so pleased with it, i enede up buying a full set and i always tell people what a great knife they are
Magic Knife 8"
Helene Louie Threadgold
6 April 2021
Great Knives, easy to clean and sharpen, light to use
Magic Knife 8"
Lyn Sibson
6 April 2021
When I first purchased this knife I thought it was the answer to all my chopping and slicing problems. It sliced through bread, meat, veg etc like a dream. However, in reality, when it has been sharpened it is fabulous, but unfortunately the sharpness does not last for very long at all. I seem to be continually sharpening it. It has really disappointed me and not been the knife that was described to me when I bought it.
Magic Knife 8"
Jackie
2 April 2021
I love magic knife. The best knife I have owned
Magic Knife 5"
Brennieboy
29 March 2021
This is the 2nd set of knives I've purchased, absolutely fabulous. Always stay sharp and so easy to use.
Read more reviews for this product
Write a customer review *
* Please note reviews are not displayed immediately to others and will take 2 - 3 days to appear on the website.
Each Magic Knife comes with 1 year guarantee.
If anything happens to your knife you can use our returns form to arrange a replacement or visit us at a show to exchange your knife.
We highly recommend washing your knife by hand.