Magic Knife 5" and 8"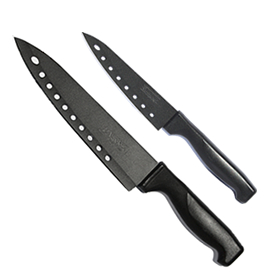 Magic Knife 5"
Our small but handy Magic Knife.

Suitable for the person who does not like a large knife, but still capable of doing all those jobs in the kitchen, from the hardest swede to softest tomatoes.

Magic Knife 8"
The original Magic Knife.

One knife for all your culinary needs.

Great for meat, fish and all your vegetables, from the hardest butternut squash to the softest tomatoes.

Bundle contains:

1 x Magic Knife 5"
1 x Magic Knife 8"

Customer Reviews
Customer Reviews
Magic Knife 5"
Pat
15 September 2021
Bought a box set about 2 years ago and pleased they boasted about a lifetime guarantee. Have always hand washed them as advised. I was very surprised when the knife blade came out of the socket today - I was on chopping and onion! Shame as I really like my knife set but not sure I want to pay £30for it to last 2 years only
Magic Knife 5"
Terry
12 September 2021
Magic Knife 8"
J Wilk
2 September 2021
I have a set of magic knives and have found them to be excellent but not the black coating is coming off on food. Rather concerned about this.
Magic Knife 5"
Vicky Stanton
24 August 2021
I have all 3 sizes of knives now and I love them I don't use any other knife to prepare or cut food. I'd highly recommend them to anyone who is just thinking are they as good as they claim.. Yes they are. I've been a happy customer for 5 years in total.
Magic Knife 8"
Anita Roberts
18 August 2021
Always my go to knife - can't fault them
Read more reviews for this product
Write a customer review *
* Please note reviews are not displayed immediately to others and will take 2 - 3 days to appear on the website.
Each Magic Knife comes with 1 year guarantee.
If anything happens to your knife you can use our returns form to arrange a replacement or visit us at a show to exchange your knife.
We highly recommend washing your knife by hand.