Magic Knife 5" and 8"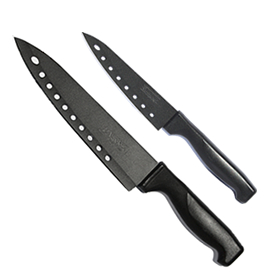 Magic Knife 5"
Our small but handy Magic Knife.

Suitable for the person who does not like a large knife, but still capable of doing all those jobs in the kitchen, from the hardest swede to softest tomatoes.

Magic Knife 8"
The original Magic Knife.

One knife for all your culinary needs.

Great for meat, fish and all your vegetables, from the hardest butternut squash to the softest tomatoes.

Bundle contains:

1 x Magic Knife 5"
1 x Magic Knife 8"

Customer Reviews
Customer Reviews
Magic Knife 8"
Jamie
13 February 2019
It's mine. And always ready for special kitchen duties.
Magic Knife 8"
Tamz
13 February 2019
Excellent knife, very sharp and needs sharpening rarely. It's the only knife I use now. Great product.
Magic Knife 8"
Unknown
12 February 2019
I have been very pleased with my magic knife. Being an OAP I have always found it difficult to slice through large swedes but with my magic knife it is simple and it is just as good with delicate tomates. Many thanks.
Magic Knife 8"
Simon Dean
8 February 2019
is excellent, - silly little things like being able slice a cherry tomato is amazing. Never lets us down, highly recommended.
Magic Knife 8"
Caz
7 February 2019
Bought this knife after seeing it being demonstrated at an event and it's as good as they said! You need to keep it sharpened on a normal knife sharpener but it then cuts easily through most things by sliding the knife across towards you and down. Only thing to fault is that the black colour had started to scratch off
Read more reviews for this product
Each Magic Knife comes with 1 year guarantee.
If anything happens to your knife you can use our returns form to arrange a replacement or visit us at a show to exchange your knife.
We highly recommend washing your knife by hand.