Magic Knife 5" with Sharpener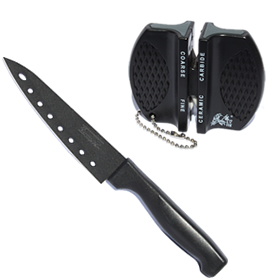 Magic Knife 5"
Our small but handy Magic Knife.

Suitable for the person who does not like a large knife, but still capable of doing all those jobs in the kitchen, from the hardest swede to softest tomatoes.

Sharpener
A quick and easy way to keep all your knives in perfect condition.

It has a two stage sharpening design of carbide and ceramic, with non-skid feet to provide safety when sharpening.

Bundle contains:

1 x Magic Knife 5"
1 x Sharpener

Customer Reviews
Customer Reviews
Magic Knife 5"
Unknown
18 April 2019
Not as sharp now I can't. Use it for every preparation task disappointing
Sharpener
Unknown
17 April 2019
After 6 months or so this seems to have stopped working. It was agreed to replace it but I needed at my own cost to return the one I bought. Not explained at time of purchase, Was also asked how I used the knives and what I was using the knives on (plastic cutting board) and how often I sharpened the knives, After all that interrogation I have decided not to send it back seems a lot of effort for such a small item. Had to get an order ref for the replacement also.
Magic Knife 5"
Sara
17 April 2019
Love my magic knives, prepping is so much easier with them! They are so versatile & slice through everything like butter. I would highly recommend.
Magic Knife 5"
Magic "Magic Knives"
15 April 2019
We had to have our 5" Magic Knife replaced as the blade became loose. No quibble at all about doing this. Bought a 3" knife at the same time, and now have all three sizes. The 5" in the one we sue the most, but they are, without doubt completely magic - and the best knives we have ever bought,
Magic Knife 5"
Steve Garland
11 April 2019
I have enjoyed these knives for the last couple of years and find them very easy to keep sharp. I never wash my knives in a dishwasher but the other day the handle snapped! Very disappointed as this was my favourite knife in the set, but need to think twice about replacement as this seems to be an issue others have also experienced.
Read more reviews for this product
Each Magic Knife comes with 1 year guarantee.
If anything happens to your knife you can use our returns form to arrange a replacement or visit us at a show to exchange your knife.
We highly recommend washing your knife by hand.