2x Magic Knife 5"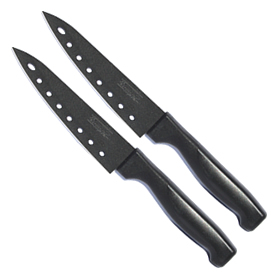 Magic Knife 5"
Our small but handy Magic Knife.

Suitable for the person who does not like a large knife, but still capable of doing all those jobs in the kitchen, from the hardest swede to softest tomatoes.

Bundle contains:

2 x Magic Knife 5"

Customer Reviews
Customer Reviews
Magic Knife 5"
Viv Green
6 August 2019
Brilliant knives have this one and the larger one and both do exactly what they say. Hubby loves the small one for slicing tomatoes as makes it so easy.
Magic Knife 5"
Unknown
2 July 2019
I have actually got all 3 knives, and wouldn't be without them, sharp, easy to use,
Magic Knife 5"
Chris
5 June 2019
A great knife - lightweight but robust, sharp and accurate for slicing thinly - I love it!
Magic Knife 5"
Dani
3 June 2019
Six months on and this is still my favourite knife in the kitchen! I bought it at the Good Food Show and I'm hoping to see them again in a few weeks to buy another magic knife to add to my collection
Magic Knife 5"
Unknown
27 May 2019
Definitely best knife we have ever used. Cuts quickly and smoothly. Also have the 3" knife. Would never buy a different brand
Read more reviews for this product
Each Magic Knife comes with 1 year guarantee.
If anything happens to your knife you can use our returns form to arrange a replacement or visit us at a show to exchange your knife.
We highly recommend washing your knife by hand.