Box Set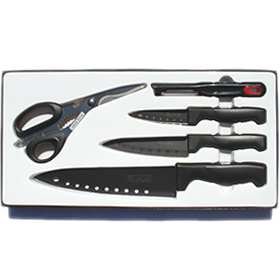 The Magic Knife Set contains the following:

Magic Knife 8"
The original Magic Knife.

One knife for all your culinary needs.

Great for meat, fish and all your vegetables, from the hardest butternut squash to the softest tomatoes.

Magic Knife 5"
Our small but handy Magic Knife.

Suitable for the person who does not like a large knife, but still capable of doing all those jobs in the kitchen, from the hardest swede to softest tomatoes.

Magic Knife 3"
Our small knife is perfect for controlled, detailed work.

Great for slicing, dicing and carving smaller fruits and vegetables.

Ideal for deveining prawns and removing seeds from chillis.

Perfect for detail work.

Kitchen Scissors
Our kitchen scissors are the ideal accessory for your kitchen.

The scissors features a bottle opener and nutcracker located in the middle, and a flat headed screwdriver at the handle end to help prise open can lids.

Peeler
Our Peeler makes easy work on potatoes and carrots.
Customer Reviews
Customer Reviews
Box Set
Robin Stirling
9 January 2022
The knives in particular have made food preparation so much easier and enjoyable. A regular sharpen with the associated device keeps these knives as sharp as I'll ever need. Love them! The peeler also works a year once you get the knack and the scissors do what the should, well. Highly recommended.
Box Set
RomyJ
3 January 2022
This was one of our best purchases of 2021. The knives makes it easy to cut anything from fresh bread to hard vegetables like butternut squash and we use them all the time.
Box Set
Denise Houghton
28 December 2021
Excellent knives perfect for all cooking preparation purposes. My only problem is I have lost the smallest knife in the set and I don't know where to purchase a replacement!
Box Set
Faye Robinson
28 December 2021
These knives are absolutely amazing! We have been looking for some decent knives that wouldn't break the bank, as lots are several hundred pounds, but these are a good price and good quality too. So good our nephew bought some as he enjoys cooking but is a student so money is tight. Once again thanks
Box Set
TrevorDW
19 December 2021
Bought at Hampton Court Food Fest summer 2020. Very impressed
Read more reviews for this product
Write a customer review *
* Please note reviews are not displayed immediately to others and will take 2 - 3 days to appear on the website.
Each Magic Knife comes with 1 year guarantee.
If anything happens to your knife you can use our returns form to arrange a replacement or visit us at a show to exchange your knife.
We highly recommend washing your knife by hand.