Box Set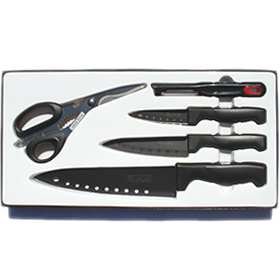 The Magic Knife Set contains the following:

Magic Knife 8"
The original Magic Knife.

One knife for all your culinary needs.

Great for meat, fish and all your vegetables, from the hardest butternut squash to the softest tomatoes.

Magic Knife 5"
Our small but handy Magic Knife.

Suitable for the person who does not like a large knife, but still capable of doing all those jobs in the kitchen, from the hardest swede to softest tomatoes.

Magic Knife 3"
Our small knife is perfect for controlled, detailed work.

Great for slicing, dicing and carving smaller fruits and vegetables.

Ideal for deveining prawns and removing seeds from chillis.

Perfect for detail work.

Kitchen Scissors
Our kitchen scissors are the ideal accessory for your kitchen.

The scissors features a bottle opener and nutcracker located in the middle, and a flat headed screwdriver at the handle end to help prise open can lids.

Peeler
Our Peeler makes easy work on potatoes and carrots.
Customer Reviews
Customer Reviews
Box Set
JayPP
21 September 2022
After 6 months of good use they are still sharp and in good condition. Love the slimline peeler. Definitely recommend, they do prevent veg from sticking as you chop
Box Set
Seanp18
21 September 2022
These knives are OK but they do not stay razor sharp for very long, not as long as I thought they would for the money. After sharpening though they are really good
Box Set
MW
16 September 2022
Seriously sharp blades slice through everything with ease and precision. The sharpener makes light work of restoring old knives and scissors to their former glory. Makes a great gift for newly weds or anyone moving into their first place. Slice and dice, very nice!
Box Set
A cut above
9 September 2022
A fantastic set of knives with great scissors and sharpener. The price was wel below what I expect to pay for good knives
Box Set
Amazing Knives
7 September 2022
Bought these from one of your stands at a show in NEC - was impressed by the team demonstrating - had a few go's with my partner (who was a butcher) and we decided to think about it as we wandered around the show - we went back for another look and was so glad we did. These are fantastic knives - always had to get him to cut swede for me but now can do this myself with ease, slices bread beautifully and as thin as you like, squished tomatoes are a thing of the past. Peeler is comfortable to use and copes with the toughest of skins. Would be a brilliant gift for anyone who enjoys cooking.
Read more reviews for this product
Write a customer review *
* Please note reviews are not displayed immediately to others and will take 2 - 3 days to appear on the website.
Each Magic Knife comes with 1 year guarantee.
If anything happens to your knife you can use our returns form to arrange a replacement or visit us at a show to exchange your knife.
We highly recommend washing your knife by hand.