Box Set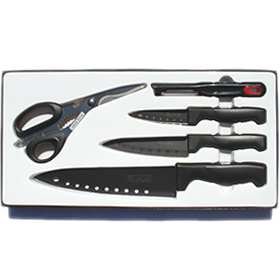 The Magic Knife Set contains the following:

Magic Knife 8"
The original Magic Knife.

One knife for all your culinary needs.

Great for meat, fish and all your vegetables, from the hardest butternut squash to the softest tomatoes.

Magic Knife 5"
Our small but handy Magic Knife.

Suitable for the person who does not like a large knife, but still capable of doing all those jobs in the kitchen, from the hardest swede to softest tomatoes.

Magic Knife 3"
Our small knife is perfect for controlled, detailed work.

Great for slicing, dicing and carving smaller fruits and vegetables.

Ideal for deveining prawns and removing seeds from chillis.

Perfect for detail work.

Kitchen Scissors
Our kitchen scissors are the ideal accessory for your kitchen.

The scissors features a bottle opener and nutcracker located in the middle, and a flat headed screwdriver at the handle end to help prise open can lids.

Peeler
Our Peeler makes easy work on potatoes and carrots.
Customer Reviews
Customer Reviews
Box Set
Nikki
7 April 2021
Fantastic knife set, can't fault them. I have used these knives for about 6 years and only replaced 1 knife due to a faulty handle but this was covered by the great warranty that comes with them. I also ordered another knife while arranging replacement as they are that good. Would highly recommend these, just be careful as they are very sharp ! I would also recommend getting the knife sharpener to keep your blades in tip top condition. The Vegetable peeler is also great and makes peeling veg/fruit so easy. The scissors are very sharp and work well. I have only got this set to compliment my existing knives from magic knife. Again a great box set and highly recommended.
Box Set
Fernanda Mahler
4 April 2021
Fantastic knives, can praise enough!
Box Set
James
31 March 2021
This is the second set that I have brought as the first 8" broke but I had it for 6 years (that's excellent) these are the best knife I've owened stay sharp and easy to sharpen HIGHLY RECOMMEND
Box Set
John Duffy
24 March 2021
two years of daily use and still as sharp as ever! Fantastic products and very easy to use. Would recommend them to everyone.
Box Set
Unknown
10 March 2021
The Magic Kife box set surpassed all my expectations - the quality is fantastic and this is a product I would recommend to anyone looking for reliable, long lasting cutting implements. Very pleased indeed.
Read more reviews for this product
Write a customer review *
* Please note reviews are not displayed immediately to others and will take 2 - 3 days to appear on the website.
Each Magic Knife comes with 1 year guarantee.
If anything happens to your knife you can use our returns form to arrange a replacement or visit us at a show to exchange your knife.
We highly recommend washing your knife by hand.