Box Set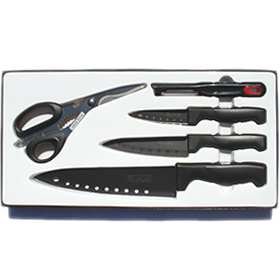 The Magic Knife Set contains the following:

Magic Knife 8"
The original Magic Knife.

One knife for all your culinary needs.

Great for meat, fish and all your vegetables, from the hardest butternut squash to the softest tomatoes.

Magic Knife 5"
Our small but handy Magic Knife.

Suitable for the person who does not like a large knife, but still capable of doing all those jobs in the kitchen, from the hardest swede to softest tomatoes.

Magic Knife 3"
Our small knife is perfect for controlled, detailed work.

Great for slicing, dicing and carving smaller fruits and vegetables.

Ideal for deveining prawns and removing seeds from chillis.

Perfect for detail work.

Kitchen Scissors
Our kitchen scissors are the ideal accessory for your kitchen.

The scissors features a bottle opener and nutcracker located in the middle, and a flat headed screwdriver at the handle end to help prise open can lids.

Peeler
Our Peeler makes easy work on potatoes and carrots.
Customer Reviews
Customer Reviews
Box Set
Margaret
21 June 2022
Absolutely love these knives
Box Set
Diana Morgan
20 June 2022
Brilliant product, I am very pleased with it, it does just what the salesman said it would do.
Box Set
Uddin
19 June 2022
I previously bought my very first Magic Knife 9 years ago at the Halal Food Festival in London. It's been my daily chopping, slicing and cutting knife. I keep getting asked by family and friends about knives and which ones are good, sharp, durable and comfortable to use. Magic Knife has always been my recommendation. So last year I bought 3 box sets to gift to loved ones after saving and working a bit extra in my part time job. It is worth the money and I highly recommend the products.
Box Set
Derek Brand
16 June 2022
Quality knives, peeler and sharpener, retain edge, feel comfortable using them
Box Set
Lesley
15 June 2022
These knives are fabulous and so good that my children no longer fight over a very old steal knife that up until buying a magic knife was the only decent knife in the house. I love them.
Read more reviews for this product
Write a customer review *
* Please note reviews are not displayed immediately to others and will take 2 - 3 days to appear on the website.
Each Magic Knife comes with 1 year guarantee.
If anything happens to your knife you can use our returns form to arrange a replacement or visit us at a show to exchange your knife.
We highly recommend washing your knife by hand.