Magic Knife 3" and 5"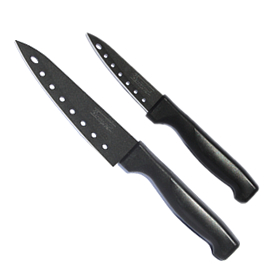 Magic Knife 3"
Our small knife is perfect for controlled, detailed work.

Great for slicing, dicing and carving smaller fruits and vegetables.

Ideal for deveining prawns and removing seeds from chillis.


Magic Knife 5"
Our small but handy Magic Knife.

Suitable for the person who does not like a large knife, but still capable of doing all those jobs in the kitchen, from the hardest swede to softest tomatoes.

Bundle contains:

1 x Magic Knife 3"
1 x Magic Knife 5"

Customer Reviews
Customer Reviews
Magic Knife 5"
Brennieboy
29 March 2021
This is the 2nd set of knives I've purchased, absolutely fabulous. Always stay sharp and so easy to use.
Magic Knife 3"
Margaret
24 March 2021
I have all three knives and have had them for at least 5 years with no problem at all. A friend recommended them to me and I thank her constantly for introducing me to them. I am short of the 3" one at the moment simply because I think I disposed of it accidentally w hen putting veg peelings in the bin. I am going to order another one to make the set complete.
Magic Knife 5"
Christine
10 March 2021
My third 5" knife has just broken in what I consider to be a dangerous way. In Nov 2016 I bought a set of knives at NEC Christmas Exhibition. Eleven months later, the 5" one broke, the handle coming away from the blade. Twenty-five months later the replacement one broke in the same manner. To be fair this was replaced free of charge. However, the third one I have now (the second replacement) has broken after 13 months. In the previous two cases I was cutting a soft material when it broke, however this time I was cutting a large carrot. The blade shot out, span round and came at me pointed end forward. It just missed my arm and ended up on the floor behind me. From my experience and other comments knife breakage does seem to be a common occurance. This is not the robust product I thought I was purchasing.
Magic Knife 5"
James
23 January 2021
Having had my previous reviews taken down immediately I thought I would try one more time to see if they would be truthful and show all reviews. After only 18 months of normal use and never seeing a dishwasher the handle on my knife broke. Following further research this seems to be an extremely common fault with these knives. When i enquired about the lifetime guarantee I was appalled to fine it that is was a scan and not worth the paper it was written on. Rather then simply replacing the not fit for purpose product you must pay for the P&P to return the item, they then charge you a fee for how many years you have had the knife and finally you have to pay the P&P for the replacement item to be delivered. These are not premium knives and the guarantee is a scam.
Magic Knife 5"
James
22 January 2021
The knives were really good at first. Although the blades are a little flimsy they were really nice to use. HOWEVER after 18 months of using the knives, the 5" knife handle broke through normal use, similar to other reviews I have read. When I enquired about replacing the knife through the lifetime guarantee I was shocked to find out it is not worth the paper it is written on. In order to get a replacement you have to pay for the P&P to return the broken, not fit for purpose knife, then they charge you a fee for how long you have owned the knife and finally charge you for the P&P for the delivery of your replacement knife. Do not be fooled by the offer of the guarantee and if you want a long lasting premium knife, I would suggest looking elsewhere.
Read more reviews for this product
Write a customer review *
* Please note reviews are not displayed immediately to others and will take 2 - 3 days to appear on the website.
Each Magic Knife comes with 1 year guarantee.
If anything happens to your knife you can use our returns form to arrange a replacement or visit us at a show to exchange your knife.
We highly recommend washing your knife by hand.