Magic Knife 3" and 5"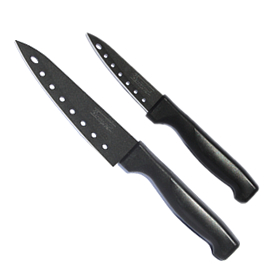 Magic Knife 3"
Our small knife is perfect for controlled, detailed work.

Great for slicing, dicing and carving smaller fruits and vegetables.

Ideal for deveining prawns and removing seeds from chillis.


Magic Knife 5"
Our small but handy Magic Knife.

Suitable for the person who does not like a large knife, but still capable of doing all those jobs in the kitchen, from the hardest swede to softest tomatoes.

Bundle contains:

1 x Magic Knife 3"
1 x Magic Knife 5"

Customer Reviews
Customer Reviews
Magic Knife 3"
Paula
12 May 2020
A great all rounder in the kitchen and definitely my best friend on the tough tasks such as butternut squash!
Magic Knife 5"
Jackie Jenkins
11 May 2020
I love my magic knives. This one is a replacement, as it's predecessor mysteriously disappeared. (Probably binned with the potato peelings!) I have three knives and love them all. They work beautifully and sharpen well. A while ago one of my knives broke, as a result of misuse by my husband, (chopping frozen parmesan) It was replaced immediately without fuss. Excellent service.
Magic Knife 3"
Unknown
11 May 2020
This has become our favourite knife in the kitchen. Probably the only negative is that the black coating is starting to scratch. This does not affect its performance. We have been very happy with our purchase after the demonstration and being able to test it before we bought it. We also bought the 5 inch knife which is also fantastic. Thank you.
Magic Knife 5"
Mrs Catherine Stronach
29 April 2020
I am absolutely delighted with my purchase of the Magic Knife. It cuts through different types of meat, vegetables and fruit so easy. It really is "Magic".
Magic Knife 5"
Zsolt Egerszegi
27 April 2020
I enjoy using the knife. I did not need to sharp it at all. It is easy to use and easy to clean. Frankly it is a very good knife. I would prefer a wooden handle, but it is not so important. :-) Zsolt Egerszegi
Read more reviews for this product
Each Magic Knife comes with 1 year guarantee.
If anything happens to your knife you can use our returns form to arrange a replacement or visit us at a show to exchange your knife.
We highly recommend washing your knife by hand.