Magic Knife 3" and 5"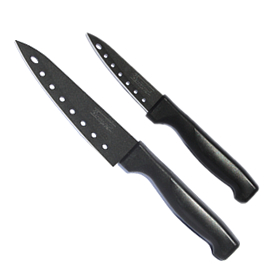 Magic Knife 3"
Our small knife is perfect for controlled, detailed work.

Great for slicing, dicing and carving smaller fruits and vegetables.

Ideal for deveining prawns and removing seeds from chillis.


Magic Knife 5"
Our small but handy Magic Knife.

Suitable for the person who does not like a large knife, but still capable of doing all those jobs in the kitchen, from the hardest swede to softest tomatoes.

Bundle contains:

1 x Magic Knife 3"
1 x Magic Knife 5"

Customer Reviews
Customer Reviews
Magic Knife 5"
Unknown
14 October 2019
I really love my knife and use it every day. My only wish is that I should have bought the larger one too. I really hope that I win the prize.
Magic Knife 3"
Keith diplock
11 October 2019
Bought them at ideal home expedition what's great buy it was fantastic love ummm
Magic Knife 5"
Ian Denison
6 October 2019
Excellent knife that is consistently sharper than any other knife in the drawer. It does everything that was promised when we bought it and more Very easy to recommend to other users. Buy the entire set!
Magic Knife 5"
Julia
1 October 2019
Bought this knife to replace one that got left behind in a holiday home. It is used most days as are most of the Magic Knives in our house. If it got lost or damaged, I would replace it with exactly the same.
Magic Knife 5"
Brilliant knife!
29 September 2019
What a great knife sold by a friendly and knowledgable team. Haven't had to sharpen it yet and I use this every single day!!! Would recommend 100%!
Read more reviews for this product
Each Magic Knife comes with 1 year guarantee.
If anything happens to your knife you can use our returns form to arrange a replacement or visit us at a show to exchange your knife.
We highly recommend washing your knife by hand.