Magic Knife 3" and 5"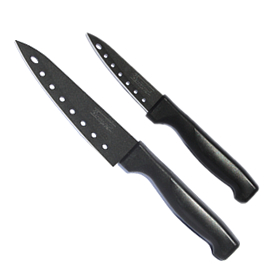 Magic Knife 3"
Our small knife is perfect for controlled, detailed work.

Great for slicing, dicing and carving smaller fruits and vegetables.

Ideal for deveining prawns and removing seeds from chillis.


Magic Knife 5"
Our small but handy Magic Knife.

Suitable for the person who does not like a large knife, but still capable of doing all those jobs in the kitchen, from the hardest swede to softest tomatoes.

Bundle contains:

1 x Magic Knife 3"
1 x Magic Knife 5"

Customer Reviews
Customer Reviews
Magic Knife 5"
Christine Cameron
18 November 2019
Great knife sits well in hand so easy to use. Tackles hard skin fruit & veg very well
Magic Knife 5"
Mark
1 November 2019
Not impressed at all. Knife is flimsy and snapped at the handle whilst cutting cheese!! Asked for a replacement as it has a LIFETIME guarantee and then had to do the following: Email photo of the broken knife along with proof of purchase and guarantee, then send the knife back at cost to get a code which would then only allow me to PURCHASE another knife off the website at a slightly discounted rate. When I questioned this I was told that the knifes guarantee was for the life of the knife which is 5 years and I would have to pay for the years I had used it and then the postage of the one I purchased! I have since bought a sturdy quality Japanese knife that is far superior in every way.
Magic Knife 5"
Claire Audritt
27 October 2019
Amazing knife in every respect and so good that I have just bought another one so that I always have one to hand!
Magic Knife 5"
Sue
22 October 2019
Really good and easy to use as I have arthritis in my thumbs which makes cutting difficult. A useful knife to have In the knife drawer. Brilliant
Magic Knife 5"
Unknown
14 October 2019
I really love my knife and use it every day. My only wish is that I should have bought the larger one too. I really hope that I win the prize.
Read more reviews for this product
Each Magic Knife comes with 1 year guarantee.
If anything happens to your knife you can use our returns form to arrange a replacement or visit us at a show to exchange your knife.
We highly recommend washing your knife by hand.