Magic Knife 3" and 5"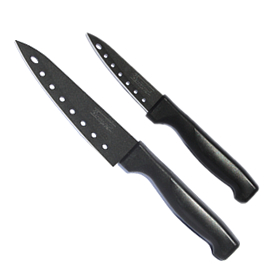 Magic Knife 3"
Our small knife is perfect for controlled, detailed work.

Great for slicing, dicing and carving smaller fruits and vegetables.

Ideal for deveining prawns and removing seeds from chillis.


Magic Knife 5"
Our small but handy Magic Knife.

Suitable for the person who does not like a large knife, but still capable of doing all those jobs in the kitchen, from the hardest swede to softest tomatoes.

Bundle contains:

1 x Magic Knife 3"
1 x Magic Knife 5"

Customer Reviews
Customer Reviews
Magic Knife 5"
Patricia Townshend
27 December 2020
As usual a beautifully sharp knife.
Customer Service
Great Customer Service!
11 November 2020
Hi. I just want to say how efficient and helpful the customer care had been from Phil and Lesley. I've had my 8' and 5' knife for 5 years and they are so good that they are the only knifes I use. The handle of the 5" broke but I couldn't find the guarantee. They asked me some questions, tracked when I bought it and reissued the guarantee. I can now have my much loved knife back and have actually ordered some more to add to my collection. I can thoroughly recommend them Magic Knife as a company!! Amanda
Magic Knife 5"
Helen Ballinger
27 October 2020
Really is the best knife I have ever had, sharpens so well and holds its edge. Very happy with my purchase
Magic Knife 5"
C W
16 October 2020
I have three of the magic knives in various sizes. Very sharp, light and easy to use. Totally recommend. Once purchased you won't need any other knives.
Magic Knife 5"
Unknown
10 October 2020
Just received my knife back after sending it back for replacement, as the handle broke. I've been totally lost without it. Purchased the 8" originally along with the 5" superb knives. Now purchased the 3" knife not tried that yet. Great service thanks Phil and Lesley. Regards Eileen
Read more reviews for this product
Each Magic Knife comes with 1 year guarantee.
If anything happens to your knife you can use our returns form to arrange a replacement or visit us at a show to exchange your knife.
We highly recommend washing your knife by hand.