Magic Knife 3" with Sharpener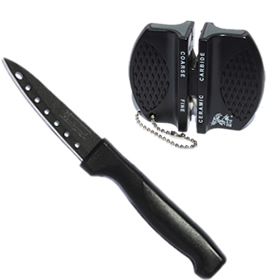 Magic Knife 3"
Our small knife is perfect for controlled, detailed work.

Great for slicing, dicing and carving smaller fruits and vegetables.

Ideal for deveining prawns and removing seeds from chillis.


Sharpener
A quick and easy way to keep all your knives in perfect condition.

It has a two stage sharpening design of carbide and ceramic, with non-skid feet to provide safety when sharpening.

Bundle contains:

1 x Magic Knife 3"
1 x Sharpener

Customer Reviews
Customer Reviews
Magic Knife 3"
Mandy
14 April 2021
Have been using magic knives now for a few years and are by far the best knives I've ever used, perfect - currently I have 4 x of them and wouldn't use anything else. Customer service is second to none and I would highly recommend anyone purchasing them.
Magic Knife 3"
Margaret
24 March 2021
I have all three knives and have had them for at least 5 years with no problem at all. A friend recommended them to me and I thank her constantly for introducing me to them. I am short of the 3" one at the moment simply because I think I disposed of it accidentally w hen putting veg peelings in the bin. I am going to order another one to make the set complete.
Customer Service
Great Customer Service!
11 November 2020
Hi. I just want to say how efficient and helpful the customer care had been from Phil and Lesley. I've had my 8' and 5' knife for 5 years and they are so good that they are the only knifes I use. The handle of the 5" broke but I couldn't find the guarantee. They asked me some questions, tracked when I bought it and reissued the guarantee. I can now have my much loved knife back and have actually ordered some more to add to my collection. I can thoroughly recommend them Magic Knife as a company!! Amanda
Customer Service
Unknown
9 October 2020
Absolutely excellent after-sales service, it's second to none! Thank you Phil & Lesley
Customer Service
Lisa Powell
8 October 2020
Not just excellent knives, but also Incredible after-sales service. The best I have ever known from any company. Thank you Phil & Lesley.
Read more reviews for this product
Write a customer review *
* Please note reviews are not displayed immediately to others and will take 2 - 3 days to appear on the website.
Each Magic Knife comes with 1 year guarantee.
If anything happens to your knife you can use our returns form to arrange a replacement or visit us at a show to exchange your knife.
We highly recommend washing your knife by hand.