Magic Knife 3" with Sharpener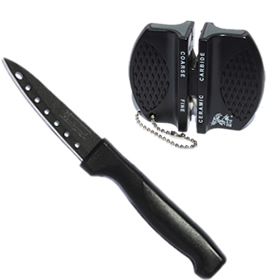 Magic Knife 3"
Our small knife is perfect for controlled, detailed work.

Great for slicing, dicing and carving smaller fruits and vegetables.

Ideal for deveining prawns and removing seeds from chillis.


Sharpener
A quick and easy way to keep all your knives in perfect condition.

It has a two stage sharpening design of carbide and ceramic, with non-skid feet to provide safety when sharpening.

Bundle contains:

1 x Magic Knife 3"
1 x Sharpener

Customer Reviews
Customer Reviews
Magic Knife 3"
Marian Kay
23 January 2020
We now own three sizes of Magic knife and all are excellent. Easy to use, sharp and do not squash or shred the food being cut. Would definitely recommend.
Magic Knife 3"
family cook
22 January 2020
All is going well with my handy small knife and I haven't cut myself yet which I was worried about. I can use it with confidence and it is very handy.
Magic Knife 3"
Carol Dolling
21 December 2019
A very useful sharp knife, I'm please with my purchase
Magic Knife 3"
Unknown
16 December 2019
Love it still as sharp as the day I purchased it!
Magic Knife 3"
Keith diplock
11 October 2019
Bought them at ideal home expedition what's great buy it was fantastic love ummm
Read more reviews for this product
Each Magic Knife comes with 1 year guarantee.
If anything happens to your knife you can use our returns form to arrange a replacement or visit us at a show to exchange your knife.
We highly recommend washing your knife by hand.