Magic Knife 5" and 8" with Sharpener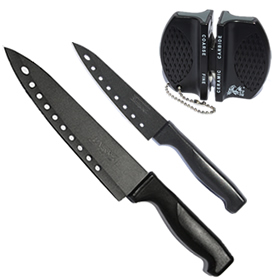 Magic Knife 5"
Our small but handy Magic Knife.

Suitable for the person who does not like a large knife, but still capable of doing all those jobs in the kitchen, from the hardest swede to softest tomatoes.

Magic Knife 8"
The original Magic Knife.

One knife for all your culinary needs.

Great for meat, fish and all your vegetables, from the hardest butternut squash to the softest tomatoes.

Sharpener
A quick and easy way to keep all your knives in perfect condition.

It has a two stage sharpening design of carbide and ceramic, with non-skid feet to provide safety when sharpening.

Bundle contains:

1 x Magic Knife 5"
1 x Magic Knife 8"
1 x Sharpener

Customer Reviews
Customer Reviews
Magic Knife 8"
Lucy
27 January 2020
I absolutely love this knife! As a keen cook I use it all the time. It is so versatile and paired with the sharpener it always stays its sharpest. I now only use this knife and refuse to use friends and family members knives as it's not enjoyable to cook. At university my knife is now used by my flat as it's simply the best! I don't know what I'd do without it
Magic Knife 5"
Paul
26 January 2020
Continually sharp and effective kitchen knife. We have the whole set and have used them for over 18 months
Magic Knife 8"
Lee Dennis
25 January 2020
Three hours after I purchased my magic knife in Harrogate, at the fair, I had a nasty fall and broke my arm in two places. It goes without saying that this was my right arm leaving me at a loss as to how to manage in the kitchen. My magic knife has been an absolute godsend as it enables me to cut everything, including raw meats, to a satisfactory standard. Thank you. I shall be buying another larger version in the future
Magic Knife 5"
AUDREY HUGHES
24 January 2020
Having this knife has made life a lot easier! I love it. Today I was slicing carrot and onion ready for the casserole and I thought " Not quite so sharp anymore ….. but I've used it constantly for six months so perhaps I should get it sharpened" Just now I came to read my emails and there was an email from Magic Knife ! Spooky! Excellent buy, never out of use.
Magic Knife 5"
Anne Astington
23 January 2020
I could not live without my 2 magic knives now. I cook vegetable stir fries for supper most nights and they are so good for cutting my mushrooms, aubergines, courgettes, carrots, parsnips and tomatoes together with a couple of slices of bacon.
Read more reviews for this product
Each Magic Knife comes with 1 year guarantee.
If anything happens to your knife you can use our returns form to arrange a replacement or visit us at a show to exchange your knife.
We highly recommend washing your knife by hand.