Magic Knife 5" and 8" with Sharpener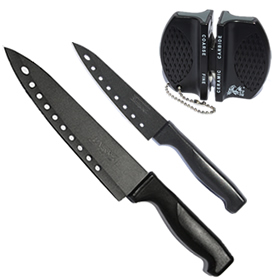 Magic Knife 5"
Our small but handy Magic Knife.

Suitable for the person who does not like a large knife, but still capable of doing all those jobs in the kitchen, from the hardest swede to softest tomatoes.

Magic Knife 8"
The original Magic Knife.

One knife for all your culinary needs.

Great for meat, fish and all your vegetables, from the hardest butternut squash to the softest tomatoes.

Sharpener
A quick and easy way to keep all your knives in perfect condition.

It has a two stage sharpening design of carbide and ceramic, with non-skid feet to provide safety when sharpening.

Bundle contains:

1 x Magic Knife 5"
1 x Magic Knife 8"
1 x Sharpener

Customer Reviews
Customer Reviews
Magic Knife 5"
Helen Ballinger
27 October 2020
Really is the best knife I have ever had, sharpens so well and holds its edge. Very happy with my purchase
Magic Knife 8"
Unknown
27 October 2020
I have had these knifes for a number of years. I actually threw away all of my others. Recently my handles had deteriorated so needed to have some replacements. I had registered for the extended guarantee. Just wonderful. The process of getting some replacements was so simple. I am just awaiting delivery now. I have read some comments where persons have said they felt aggrieved by having to pay towards the replacements. Knives are a consumable item, therefore they will experience wear and tear. I have replaced what I needed to and I have purchased an additional knife too. I also have the scissors and the sharpener. I can highly recommend the products and service. Excellent is all I can say.
Magic Knife 8"
Ian falconer
21 October 2020
This is the second knife I have had I got it through the guarantee this is the second one that has Brocken at the handle when the first one broke I was told I wasn't using it properly I have been a chef for 30 years I think I know how to use a knife the latest knife is in the bin not bothering with warrant too much hassle In all excellent knife poor construction and materials used sorry
Magic Knife 8"
Awesome knife
16 October 2020
I have a 3 of these now and absolutely love them. Well balanced and easy to keep sharp. Would thoroughly recommend
Magic Knife 5"
C W
16 October 2020
I have three of the magic knives in various sizes. Very sharp, light and easy to use. Totally recommend. Once purchased you won't need any other knives.
Read more reviews for this product
Each Magic Knife comes with 1 year guarantee.
If anything happens to your knife you can use our returns form to arrange a replacement or visit us at a show to exchange your knife.
We highly recommend washing your knife by hand.