Magic Knife 5"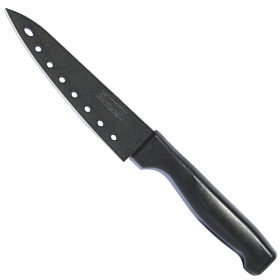 Our small but handy Magic Knife.

Suitable for the person who does not like a large knife, but still capable of doing all those jobs in the kitchen, from the hardest swede to softest tomatoes.
Customer Reviews
Customer Reviews
Magic Knife 5"
Tracey Lott
11 June 2022
This is one of the best knives I purchased in the last 40 years. Use it for just d as bout everything even cutting bread.
Magic Knife 5"
Fiona A
11 June 2022
Best knives I have ever owned. I use them all the time. They remain sharp however long I've had them and over the years I have had the whole range.
Magic Knife 5"
Mrs. Gill Thompson
10 June 2022
I have been using this magic knife now for 6 months and I am really happy with it. It continues to be sharp and seems to cut everything I want it to in the kitchen, It really was my best buy when I went to the Good Food Show 2021 where I bought this. In fact this is now the only knife I use in the kitchen.
Magic Knife 5"
Annette Mogge
5 June 2022
Very satisfied , with this unique knife. Very handy, very useful and very sharp.
Magic Knife 5"
Magic Knife
4 June 2022
I am delighted with this knife and it cuts through vegetables with ease. No more stress and pressure is needed when making soup. Would recommend this knife for a variety of uses.
Read more reviews for this product
Write a customer review *
* Please note reviews are not displayed immediately to others and will take 2 - 3 days to appear on the website.
Each Magic Knife comes with 1 year guarantee.
If anything happens to your knife you can use our returns form to arrange a replacement or visit us at a show to exchange your knife.
We highly recommend washing your knife by hand.