Magic Knife 5"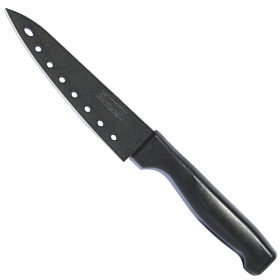 Our small but handy Magic Knife.

Suitable for the person who does not like a large knife, but still capable of doing all those jobs in the kitchen, from the hardest swede to softest tomatoes.
Customer Reviews
Customer Reviews
Magic Knife 5"
J. Gilbert
23 March 2020
So much better than any of my other knives . Sharpens well. Slicing tomatoes , fruit , veg etc now a doddle.
Magic Knife 5"
N Fitter
25 February 2020
Fantastic product. Can't fault it.
Magic Knife 5"
Belinda Draper
17 February 2020
Love these knives, I have looked after them and they have been brilliant
Magic Knife 5"
Catherine
10 February 2020
A really useful little knife, I have had the larger one for some time so was pleased to add the smaller one to it. Magic Knife is all you need in your kitchen
Magic Knife 5"
Janice Jackson
10 February 2020
I am very pleased with the knife.It cuts really well - the flexible blade allows you pare very fine slivers of peel for example. It is sharp but safe to use.
Read more reviews for this product
Each Magic Knife comes with 1 year guarantee.
If anything happens to your knife you can use our returns form to arrange a replacement or visit us at a show to exchange your knife.
We highly recommend washing your knife by hand.