Magic Knife 5"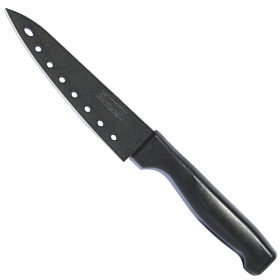 Our small but handy Magic Knife.

Suitable for the person who does not like a large knife, but still capable of doing all those jobs in the kitchen, from the hardest swede to softest tomatoes.
Customer Reviews
Customer Reviews
Magic Knife 5"
Mary Halnan
9 January 2022
This knife completed my magic knife set. These are all the knives you will ever need in the kitchen. They never let you down and cutting swede is not the chore it used to be! The knives are easy to keep in good condition if you use the sharpener. My sister bought them for me after she bought herself a set. Her son is next in line and he wants a set himself now!! I would highly recommend them.
Magic Knife 5"
Roy Challans
29 December 2021
Purchased something that was advertised as "Magic" and it really is. Told it would cut through all hrd vegetables and fruits and it actually does what it says. Really pleased with the two knives purchased and wished I had bought more
Magic Knife 5"
Ruth
29 December 2021
I bought my first Magic Knife after seeing one slice easily through a butternut squash at a demo. Not only did my new knife cut through squashes with ease, but I find myself chopping things more finely and more quickly - and generally getting a bit more chef-ish in my food preparation. It turns out that chopping like a chef is partly skill/training (which I don't have) and partly having a good knife - which I now do have.
Magic Knife 5"
Rick & Sandra Mann
24 December 2021
We bought our first magic knives about 6 years ago, just ordered another two as they are invaluable in our caravan or if we stay in gites in France, (we have left one by mistake though); the knives provided are usually rubbish! Great product!
Magic Knife 5"
Christine James
6 December 2021
Excellent product which is a very useful size. I have used it daily and it sharpens easily.
Read more reviews for this product
Write a customer review *
* Please note reviews are not displayed immediately to others and will take 2 - 3 days to appear on the website.
Each Magic Knife comes with 1 year guarantee.
If anything happens to your knife you can use our returns form to arrange a replacement or visit us at a show to exchange your knife.
We highly recommend washing your knife by hand.