Magic Knife 8" with Sharpener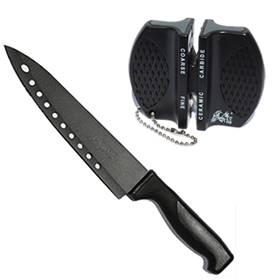 Magic Knife 8"
The original Magic Knife.

One knife for all your culinary needs.

Great for meat, fish and all your vegetables, from the hardest butternut squash to the softest tomatoes.

Sharpener
A quick and easy way to keep all your knives in perfect condition.

It has a two stage sharpening design of carbide and ceramic, with non-skid feet to provide safety when sharpening.

Bundle contains:

1 x Magic Knife 8"
1 x Sharpener

Customer Reviews
Customer Reviews
Magic Knife 8"
Diane
23 May 2020
I have used these knives for 6 months and I have been very impressed with them. I particularly like the fact that they are light yet powerful and need the minimum of force to cut cleanly and accurately. They are also easy the sharpen and keep their edge well for several uses. I wish I had discovered them many years ago!
Magic Knife 8"
Lynette Mendes
17 May 2020
I have the 8", 5" and 3" knive. Although I own other brands these are the only ones used daily by me and my lodger, whether it's cutting fish, meat, vegetables or fresh fruit. I purchased an 8" knife at the Ideal Home Exhibition some years ago for my brother n law who also found it very efficient until the handle snapped and he threw it in the bin! I found this out much later, therefore, I could not avail of the guarantee/warrantee cover for him.
Magic Knife 8"
Mrs L B Ingram
11 May 2020
Just can't believe it's lived up to its' claims. A great tool in the kitchen.
Magic Knife 8"
Zulma Burgos-Dudgeon
7 May 2020
Easily the best knife I've ever had. It makes food prep so much easier I can breeze through it and get straight to cooking. And the best part, the knife goes through onion so quickly, there's no more for tears. I'm so glad I stopped by this stall at the craft fair. I cannot recommend these products enough.
Magic Knife 8"
Stelladimare73
29 April 2020
Excellent knife, I can finally cut swede with ease and precision. But I could do with a cover but the official cover is way too expensive.
Read more reviews for this product
Each Magic Knife comes with 1 year guarantee.
If anything happens to your knife you can use our returns form to arrange a replacement or visit us at a show to exchange your knife.
We highly recommend washing your knife by hand.