Magic Knife 8" with Sharpener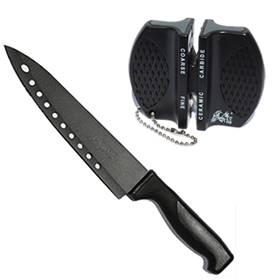 Magic Knife 8"
The original Magic Knife.

One knife for all your culinary needs.

Great for meat, fish and all your vegetables, from the hardest butternut squash to the softest tomatoes.

Sharpener
A quick and easy way to keep all your knives in perfect condition.

It has a two stage sharpening design of carbide and ceramic, with non-skid feet to provide safety when sharpening.

Bundle contains:

1 x Magic Knife 8"
1 x Sharpener

Customer Reviews
Customer Reviews
Magic Knife 8"
Eric Smith
14 October 2019
Very pleased with my purchase. Do not allow anybody else to use it.
Magic Knife 8"
Graf's keeper
12 October 2019
Best knife by far. Keeps its edge (especially with the magic sharpener to help), is balanced and cuts true. 5" works just as well with fruit. No catching or tearing just cutting straight through.
Magic Knife 8"
Lizzy
11 October 2019
I love my Magic Knife. I would like the smaller version too so it is on my list. The sharpener is really easy to use and very effective. I always struggled with the long versions so it may not look much but it is the perfect partner for my magic knife.
Magic Knife 8"
Abigail Gardner
11 October 2019
slightly dissapointed as I need to sharpen it almost weekly. it gets used about 4 time,s then needs a sharpen. hadnt realised how bad till i tried to cut a bread roll (which they did in the demo) and it slid off onto my finger - that hurt ..... i was really excited to buy this but have to say, the hype was way better than the real result
Magic Knife 8"
Mrs Spooner
11 October 2019
Was REALLY impressed with these knives when I bought them from the Ideal Home Show. They were VERY sharp but aren't overly just 6 months later & some of the coloured enamel on the blade has scratched off too! I WON'T be buying more!!!
Read more reviews for this product
Each Magic Knife comes with 1 year guarantee.
If anything happens to your knife you can use our returns form to arrange a replacement or visit us at a show to exchange your knife.
We highly recommend washing your knife by hand.