Magic Knife 8" with Sharpener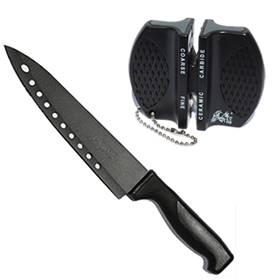 Magic Knife 8"
The original Magic Knife.

One knife for all your culinary needs.

Great for meat, fish and all your vegetables, from the hardest butternut squash to the softest tomatoes.

Sharpener
A quick and easy way to keep all your knives in perfect condition.

It has a two stage sharpening design of carbide and ceramic, with non-skid feet to provide safety when sharpening.

Bundle contains:

1 x Magic Knife 8"
1 x Sharpener

Customer Reviews
Customer Reviews
Magic Knife 8"
Stuart Allen
2 December 2019
Mark I had the same problem as you. One of my knives snapped at the handle. Only difference is that I was chopping tomatoes!! Wasn't truly happy with the knives ever since I bought them at the Ideal Home Show. The blades were certainly sharp and cut well but they began to discolour. I had already phoned the company a few days after buying them to ask if they could go in the dishwasher. I spoke to Phil who told me that their knives would not get damaged in the dishwasher but over time they might not last as long as a set that was washed by hand. I read in one review response that discolouration happens when the knives are put in the dish washer. That's not what I was told. I only had the knives for around a year and I didn't have the receipt anymore to claim for a replacement for the one that snapped. I therefore went out and bought a new set but a different brand, which I'm more than happy with.
Magic Knife 8"
Disappointed
2 December 2019
Purchased the 5" and 8" knives and unfortunately the handle has come away from the 8" knife whilst my husband was carving our sunday roast. The 5" knife seems to be ok. We don't have a dishwasher so everything is hand washed. Very disappointed
Magic Knife 8"
Brian & Pam
1 December 2019
A well balanced knife with a comfortable handle that provides a secure grip. As advertised these are very sharp blades (this is good as a sharp blade is much safer than a dull one), just treat them with due respect as with any cutting tool. Also,it's very easy to maintain the keen cutting edge with the provided sharpening tool, many other kitchen knives seem impossible to sharpen and/or maintain a good edge. The holes in the blade do work in helping to reduce friction and releasing the food being cut. overall an excellent buy.
Magic Knife 8"
Michael
16 November 2019
This knife has been used just about every day since we purchased it. It was bought specifically as it would cut through swedes with much reduced effort than normal. It has proved to be an excellent, all purpose knife and much recommended.
Magic Knife 8"
Norma Daniels
12 November 2019
This is an excellent product that keeps a keen edge for a long period and it is used in our household for all cutting and slicing daily. The edge is honed perfectly every time with the accompanying sharpener with little effort.
Read more reviews for this product
Each Magic Knife comes with 1 year guarantee.
If anything happens to your knife you can use our returns form to arrange a replacement or visit us at a show to exchange your knife.
We highly recommend washing your knife by hand.