Magic Knife 8" with Sharpener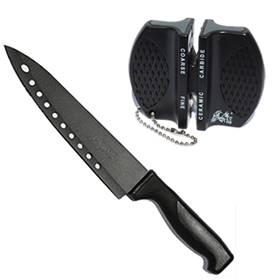 Magic Knife 8"
The original Magic Knife.

One knife for all your culinary needs.

Great for meat, fish and all your vegetables, from the hardest butternut squash to the softest tomatoes.

Sharpener
A quick and easy way to keep all your knives in perfect condition.

It has a two stage sharpening design of carbide and ceramic, with non-skid feet to provide safety when sharpening.

Bundle contains:

1 x Magic Knife 8"
1 x Sharpener

Customer Reviews
Customer Reviews
Magic Knife 8"
Shan
20 March 2020
Bought this knife at the Tatton Flower show. After watching the demonstration of how effortlessly the knife can cut through many food items I was very intrigued.Can happily say this is the best knife I own and I have spent much more of many others in the past. It is great for so many uses, would recommend for people who love cooking.
Magic Knife 8"
Caroline
19 March 2020
I really like the knife. It is great for cutting bread and tomatoes in particular. However, the end of the knife has bent a bit (not sure how), making it less useable than it once was. I would still recommend these knives though.
Magic Knife 8"
Tessel Hitchen-John
11 March 2020
First came across Magic Knife in 2014 at an Ideal Home Show and to be honest never looked back its a brilliant kitchen knife to be honest it was the only knife I used. Then something bad happened in 2019 the handle broke :-( I was really upset but reached out to Magic Knife who replaced it without any hassle. Great Product, great customer service what more can I say if you want perfect slicing Magic Knife is the only way to go. :-)
Magic Knife 8"
Cutting Edge
24 February 2020
Very useful knife. Use it all the time, cuts any food so easy and accurate. Feel very safe using it.
Magic Knife 8"
May
20 February 2020
Read more reviews for this product
Each Magic Knife comes with 1 year guarantee.
If anything happens to your knife you can use our returns form to arrange a replacement or visit us at a show to exchange your knife.
We highly recommend washing your knife by hand.