Magic Knife 8" with Sharpener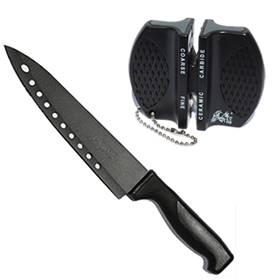 Magic Knife 8"
The original Magic Knife.

One knife for all your culinary needs.

Great for meat, fish and all your vegetables, from the hardest butternut squash to the softest tomatoes.

Sharpener
A quick and easy way to keep all your knives in perfect condition.

It has a two stage sharpening design of carbide and ceramic, with non-skid feet to provide safety when sharpening.

Bundle contains:

1 x Magic Knife 8"
1 x Sharpener

Customer Reviews
Customer Reviews
Magic Knife 8"
Frank
15 January 2022
Knife has performed exactly as promised. Still sharp after 6 months and easy to use
Magic Knife 8"
John
12 January 2022
Excellent product. Cuts bread and carves meat really well
Magic Knife 8"
Ladyr
9 January 2022
Smooth cutter - it's the knife I go to for tricky slicing and almost crumb free bread
Magic Knife 8"
Susan
6 January 2022
I can slice through the skin of a melon, pineapple and even a butter squash, using the large magic knife. (Like slicing through butter!). The small knives are excellent for peeling fruit. Slicing bread is so much easier. Having arthritic hands, these knives have made life so much easier and the best I've ever owned.
Magic Knife 8"
Denise Borge
6 January 2022
I love my magic knife and an devastated that the handle broke off It is past it's guarantee as I've had it about 5 years and have used it every day. I just wondered if someone else has had my experience. I will have to buy a new one!
Read more reviews for this product
Write a customer review *
* Please note reviews are not displayed immediately to others and will take 2 - 3 days to appear on the website.
Each Magic Knife comes with 1 year guarantee.
If anything happens to your knife you can use our returns form to arrange a replacement or visit us at a show to exchange your knife.
We highly recommend washing your knife by hand.