Magic Knife 8" with Sharpener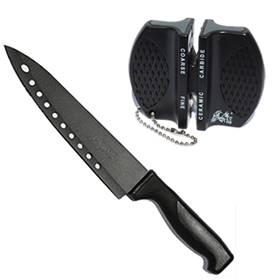 Magic Knife 8"
The original Magic Knife.

One knife for all your culinary needs.

Great for meat, fish and all your vegetables, from the hardest butternut squash to the softest tomatoes.

Sharpener
A quick and easy way to keep all your knives in perfect condition.

It has a two stage sharpening design of carbide and ceramic, with non-skid feet to provide safety when sharpening.

Bundle contains:

1 x Magic Knife 8"
1 x Sharpener

Customer Reviews
Customer Reviews
Magic Knife 8"
Suepip
22 June 2022
I love this knife! I've absolutely no further use for my other knives and can now get rid of them in favour of just this one creating much needed space. It's a pleasure to use and much safer than my other knives that remained blunt no matter how much I sharpened them. They look good too. Worth every penny in my book.
Magic Knife 8"
Best knife set ever!!!
21 June 2022
Hubby and I bought the Magic Knife set which included scissors when we visited the stall at the winter Good Food show 6 months or so ago. We badly needed new knives but wanted a set that my left-handed hubby could use too with ease. The demonstrator herself was a leftie so she understood the problems faced with a standard set. Best purchase of the show and best knife set we've ever owned. Hubby hasn't turned into Gordon Ramsay yet but at least he can cut his favourite loaf of bread without looking like he's about to chop his thumb off!
Magic Knife 8"
Martin Varley
17 June 2022
still sharp after 6 months
Magic Knife 8"
Susan Brooks
16 June 2022
Bought it at Countryfile fair in December as we were impressed with the demonstration. We found that our expectations were exceeded when we tried it at home for ourselves. We use it all the time The one thing that would improve the knife would be a protective sheath. Would definitely recommend this product.
Magic Knife 8"
IguanaMAM
15 June 2022
I've had a box set of these knives for a couple of years now and they were amazing when they were new however I no longer have them as they have all failed in the same way with the blade splitting from the handle. Very disappointed with the quality. Appreciate that there is the guarantee however you have to offset the cost for the time you've owned them against the new ones. It's not a direct replacement. Even the replacement I had for a previous failure has failed despite not having ever been in a dishwasher, stored on a rack blade down.
Read more reviews for this product
Write a customer review *
* Please note reviews are not displayed immediately to others and will take 2 - 3 days to appear on the website.
Each Magic Knife comes with 1 year guarantee.
If anything happens to your knife you can use our returns form to arrange a replacement or visit us at a show to exchange your knife.
We highly recommend washing your knife by hand.