Magic Knife 8" with Sharpener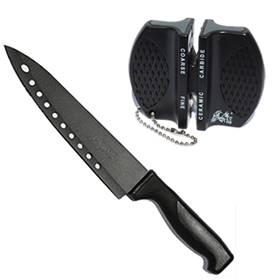 Magic Knife 8"
The original Magic Knife.

One knife for all your culinary needs.

Great for meat, fish and all your vegetables, from the hardest butternut squash to the softest tomatoes.

Sharpener
A quick and easy way to keep all your knives in perfect condition.

It has a two stage sharpening design of carbide and ceramic, with non-skid feet to provide safety when sharpening.

Bundle contains:

1 x Magic Knife 8"
1 x Sharpener

Customer Reviews
Customer Reviews
Magic Knife 8"
Pauline
16 September 2020
Great knife and excellent aftercare from Magic Knife.
Magic Knife 8"
Kathryn Turnbull
2 September 2020
I bought the knife set a few years ago - it has been the most useful kit I've ever used in the kitchen I now have an arthritic wrist but still find these knives easy to use and cut through the most difficult vegetables i.e. butternut squash One knife had to be replaced which was done very efficiently and as a consequence I purchased another one My family also use these knives after seeing how easy and efficient they are - the sharpener is essential Thank you so much for such a useful range of knives
Magic Knife 8"
Val Sniadowski
25 August 2020
I bought the 8 inch Magic knife from a demonstration at the Caravan Show and can honestly say it's the best knife I've ever had. It is my first choice of knife in the kitchen whatever the job, from salad items such as tomatoes and radishes to larger vegetables, meat and even bread. My only regret is that I didn't buy the whole set!
Magic Knife 8"
Jackie H
24 August 2020
Wish I had found this knife years ago!! Far superior to any other knives we have had. I have always struggled to chop swedes ...this makes it so much easier. I have the large knife which cuts bread perfectly easily and squarely with no 'squashing' of the bread..... and yet is delicate with tomatoes! Easy to sharpen with handy little tool. I Cannot recommend this knife more highly!
Magic Knife 8"
Total Rubbish
19 August 2020
OMG, we have had these 6 months and it feels like a lifetime. I have got to be honest about these knives we bought from the show they are totally rubbish I wouldn't recommend these at all and the reason why I say that is that the 8 inch struggles to cut a loaf of bread and the paring knife doesn't cut tomatoes well or any root veg, peeling it struggles to cut through and cheese and for the money, we are well and truly disappointed in these knives. They must have a different type of knives for shows as these are very poor indeed.
Read more reviews for this product
Each Magic Knife comes with 1 year guarantee.
If anything happens to your knife you can use our returns form to arrange a replacement or visit us at a show to exchange your knife.
We highly recommend washing your knife by hand.