Magic Knife 8" with Sharpener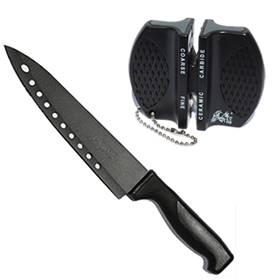 Magic Knife 8"
The original Magic Knife.

One knife for all your culinary needs.

Great for meat, fish and all your vegetables, from the hardest butternut squash to the softest tomatoes.

Sharpener
A quick and easy way to keep all your knives in perfect condition.

It has a two stage sharpening design of carbide and ceramic, with non-skid feet to provide safety when sharpening.

Bundle contains:

1 x Magic Knife 8"
1 x Sharpener

Customer Reviews
Customer Reviews
Magic Knife 8"
Sharon
11 January 2021
Best knives I have ever owned!! Bought my 8" and 5" as a set and the year after I purchased the Knife sharpener from a show in Birmingham many years ago. Have just replaced the 8" as the knife snapped at the handle on Christmas eve prepping veg. Excellent communication over the Christmas period to inform a little later delivery. These knives are used every single day since I've had them. Thank you very much x
Magic Knife 8"
Reena Parmar
4 January 2021
Fantastic product! I like all the knives and have the whole set. Can't recommend enough. The knives are so sharp and cut through things so smoothly.
Magic Knife 8"
Richard
28 December 2020
Knives are excellent but the 8 inch knife has rusted and and snapped off in the handle. We have had two and they have both done the same. We wouldn't change knives as they are amazing to use. Very disappointed that the 8 inch one keeps doing this.
Magic Knife 8"
Claire Audritt
28 December 2020
Over the last 20 years I have had Sabatier knives, John Lewis knives, Cuisine Pro and Pampered Chef knives BUT my Magic Knives are the best and therefore my favourite. Superb performance and they stay so sharp. I am a good home cook, who worked in catering kitchens in my youth and so I take food very seriously and these knives are a serious bit of kit. What a find!
Magic Knife 8"
It is pure magic
20 December 2020
I love this knife, it's the second one I own as my husband broke my first one being to hashy. It is the only knife I have found that actually cuts a turnip and I wouldn't trade it in for anything else. It is mostly the only knife I use in my house and one day I will buy a smaller one as sometimes you just need a smaller knife. I certainly have no complaints and would highly recommend the Magic Knife
Read more reviews for this product
Each Magic Knife comes with 1 year guarantee.
If anything happens to your knife you can use our returns form to arrange a replacement or visit us at a show to exchange your knife.
We highly recommend washing your knife by hand.