Magic Knife 8" with Sharpener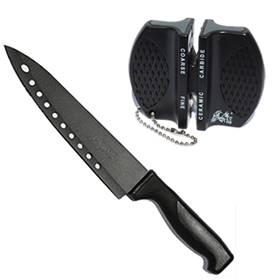 Magic Knife 8"
The original Magic Knife.

One knife for all your culinary needs.

Great for meat, fish and all your vegetables, from the hardest butternut squash to the softest tomatoes.

Sharpener
A quick and easy way to keep all your knives in perfect condition.

It has a two stage sharpening design of carbide and ceramic, with non-skid feet to provide safety when sharpening.

Bundle contains:

1 x Magic Knife 8"
1 x Sharpener

Customer Reviews
Customer Reviews
Magic Knife 8"
Patricia McDowell
20 January 2020
This really is a magic knife. I have arthritis in my wrists and was unable to slice hard vegetables. this is no longer a problem.
Magic Knife 8"
Polly
14 January 2020
I had been on the lookout for a kitchen knife which would make life easier for me after I had dislocated my thumb and with the start of arthritis. I was able to use my other hand for cutting up veg as the knife took the heavy cutting out of the chore for me, allowing me continue being independent and of not having to buy pre-chopped veg at the store (I'm not ready for that stage yet!)
Magic Knife 8"
Magic Knife Convert
19 December 2019
I purchased a magic knife for my sister last Christmas. On seeing it in use, I decided I really needed one as well. I treated myself to the 8" one first and then bought the 3" one at the next show in Ripley. They are both well worth the money - easy to use, extremely sharp and the flexible blade makes skinning fish a dream. For safety though,I leave the cardboard cover on the blade when the knife is in my drawer.
Magic Knife 8"
Teresa Robertson
11 December 2019
Best little kitchen knife you can have. Versatile, sharp and easy to use
Magic Knife 8"
Bill Rudd
11 December 2019
disappointed that the knife has lost some of its coating - and its once superb cutting edge after only six months. Have had to re-sharpen the blade to restore its cutting edge - however it still cuts extremely well
Read more reviews for this product
Each Magic Knife comes with 1 year guarantee.
If anything happens to your knife you can use our returns form to arrange a replacement or visit us at a show to exchange your knife.
We highly recommend washing your knife by hand.