Magic Knife 8" with Sharpener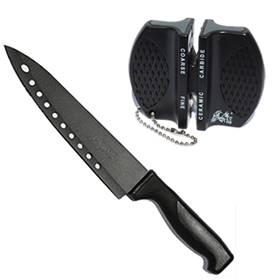 Magic Knife 8"
The original Magic Knife.

One knife for all your culinary needs.

Great for meat, fish and all your vegetables, from the hardest butternut squash to the softest tomatoes.

Sharpener
A quick and easy way to keep all your knives in perfect condition.

It has a two stage sharpening design of carbide and ceramic, with non-skid feet to provide safety when sharpening.

Bundle contains:

1 x Magic Knife 8"
1 x Sharpener

Customer Reviews
Customer Reviews
Magic Knife 8"
Unknown
14 June 2019
Great product, makes cutting food of all sorts simple. Slices through food without needing to use force and great on break as well.
Magic Knife 8"
Paula Cannell
12 June 2019
Of all its many uses cutting through fresh, crusty sourdough crust without spraying crumbs or flattening the loaf is my delight.
Magic Knife 8"
Carey English
8 June 2019
I love my Magic Knife 8", I love my long Magic Knife and my vegetable Magic Knife. I don't use any other knives. They are so sharp and light to handle. I have given Magic Knives to all my grown up children, to my brother and my sister. Everyone in the family thinks they are great.
Magic Knife 8"
Dominique Maclellan
7 June 2019
Love my magic knife. It's my go to knife for chopping and slicing and it never seems to get blunt. L Don't put it in the dishwasher though!! My family have been warned of dire consequences if they ruin my knives!!!!!
Magic Knife 8"
Gilly Newton
4 June 2019
I use the knife most days It is great for everything. Would highly recommend it
Read more reviews for this product
Each Magic Knife comes with 1 year guarantee.
If anything happens to your knife you can use our returns form to arrange a replacement or visit us at a show to exchange your knife.
We highly recommend washing your knife by hand.